Murundi
In the heart of the Zambian Copperbelt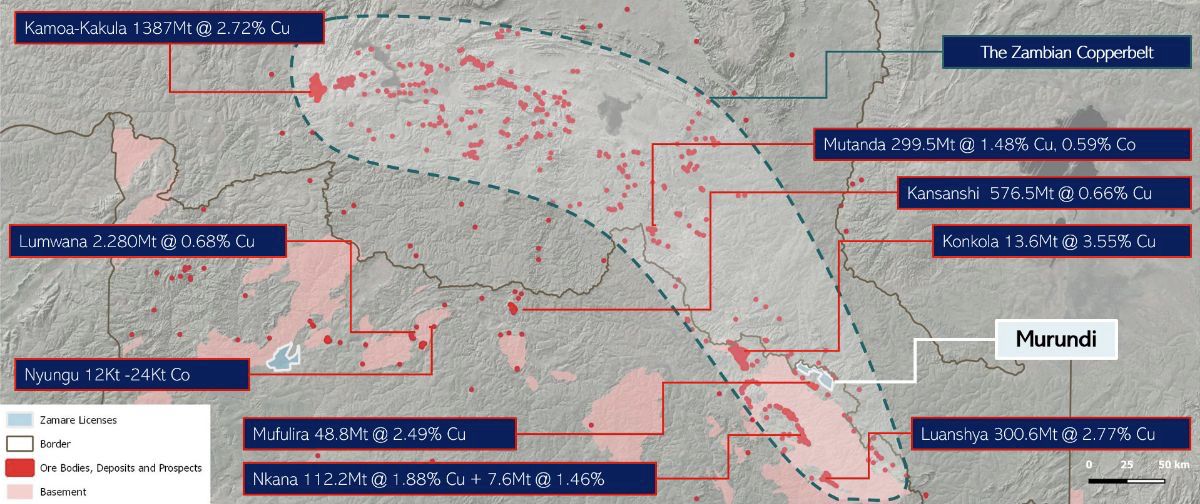 Murundi Licence (Click to zoom in)
Murundi (20859-HQ-LEL, 135 km²), directly in centre of The Copperbelt, is within 3km of the prolific Mufulira mine and adjacent to Changfa Resources which is restarting the Mokambo mine after a successful drill programme.
Initial targeting work by Zamare identified the regional-scale Mokambo Fault as a potential mineralisation-controlling structure, likely responsible for the Mufulira and Mokambo mines. Regional geological maps also showed potential reducing horizons in the stratigraphy that could have caused mineralisation to precipitate from the fluids transporting them. Geochemical soil sampling across the licence in 2020 by Zamare identified anomalies associated with the fault. Soon after completing the sampling program, Zamare were approached by Rio Tinto.
In March 2021 Zamare announced a US$3 million Earn In and Joint Venture agreement with Rio Tinto Mining and Exploration Limited over the Murundi licence. In April 2021, after Zamare confirmed the renewal of licence 20859-HQ-LEL to 21/12/23, Rio Tinto completed their legal and geological due diligence and made a cash payment to Zamare. Since signing the agreement, Rio Tinto have completed an airborne geophysical (magnetic and radiometric) survey over the Murundi licence and will be re-analysing 1028 soil samples collected by Zamare in the first half of 2021.
Terms of Rio Tinto Farm-in on Murundi
Zamare was approached by Rio Tinto following the completion by Zamare of a soil sample programme.
Rio Tinto must spend US$3mn in exploration over three years to earn 75% of Murundi.
Rio Tinto made a cash payment to Zamare following the successful completion of legal and geological due diligence.
Once Rio Tinto reach 75%, both parties fund their stake.
If Zamare elect not to fund at 10%, Zamare have the right to convert into a 1% NSR capped at US$50mn.
Rio Tinto and Zamare to establish a Management Committee with two representatives from each company which will meet at least twice a year and more often if necessary to discuss developments on the project. Rio to elect the Committee Chairman.
Rio Tinto's work programme has commenced with an aeromagnetic survey already complete and interpretation ongoing.
Full multi-element lab analysis on Zamare's soil samples has commenced.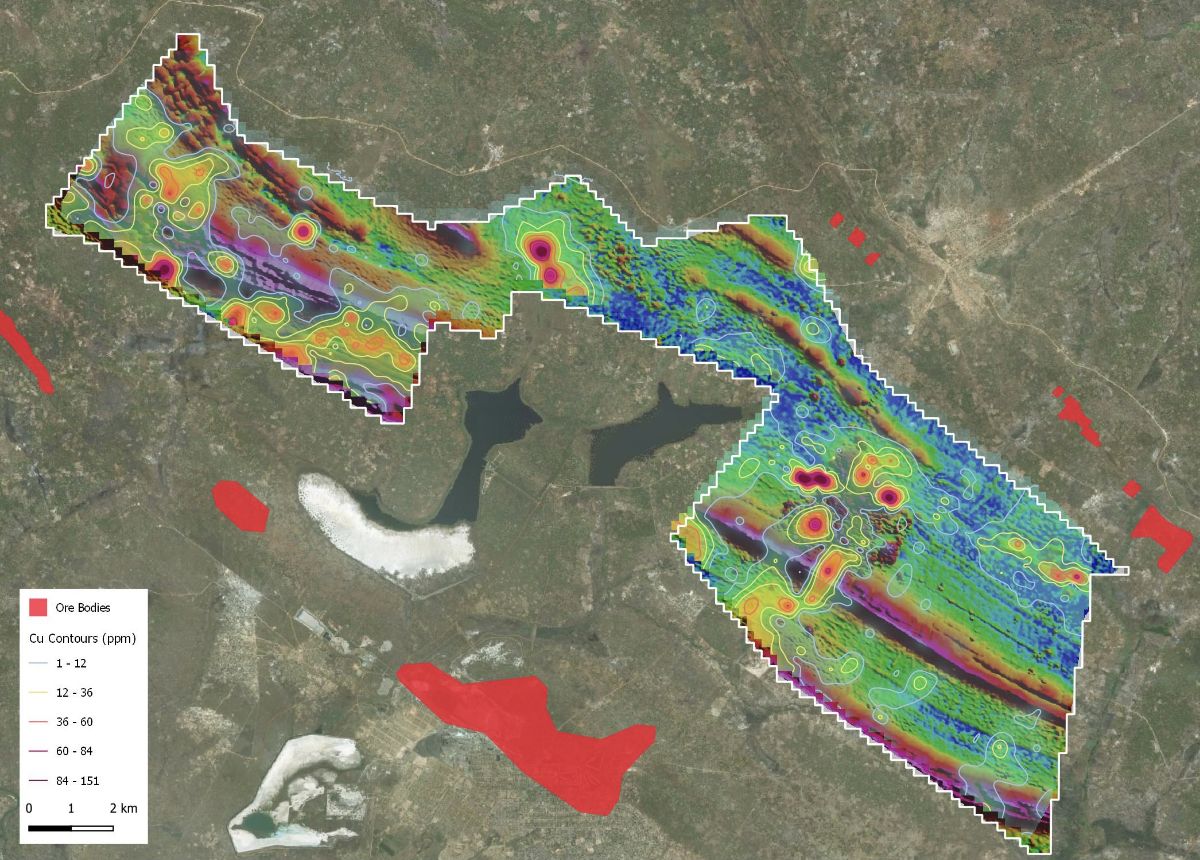 Results of airborne magnetic survey and geochemical soil sampling over the Murundi licence in 2020.
The licence has been overlooked by previous exploration companies because it is within a stratigraphy formerly thought not to contain mineralization. Since disproven by the discovery of several deposits within the horizon, including Kamoa-Kakula, independently ranked as the Africa's largest ever, undeveloped, high-grade copper discovery.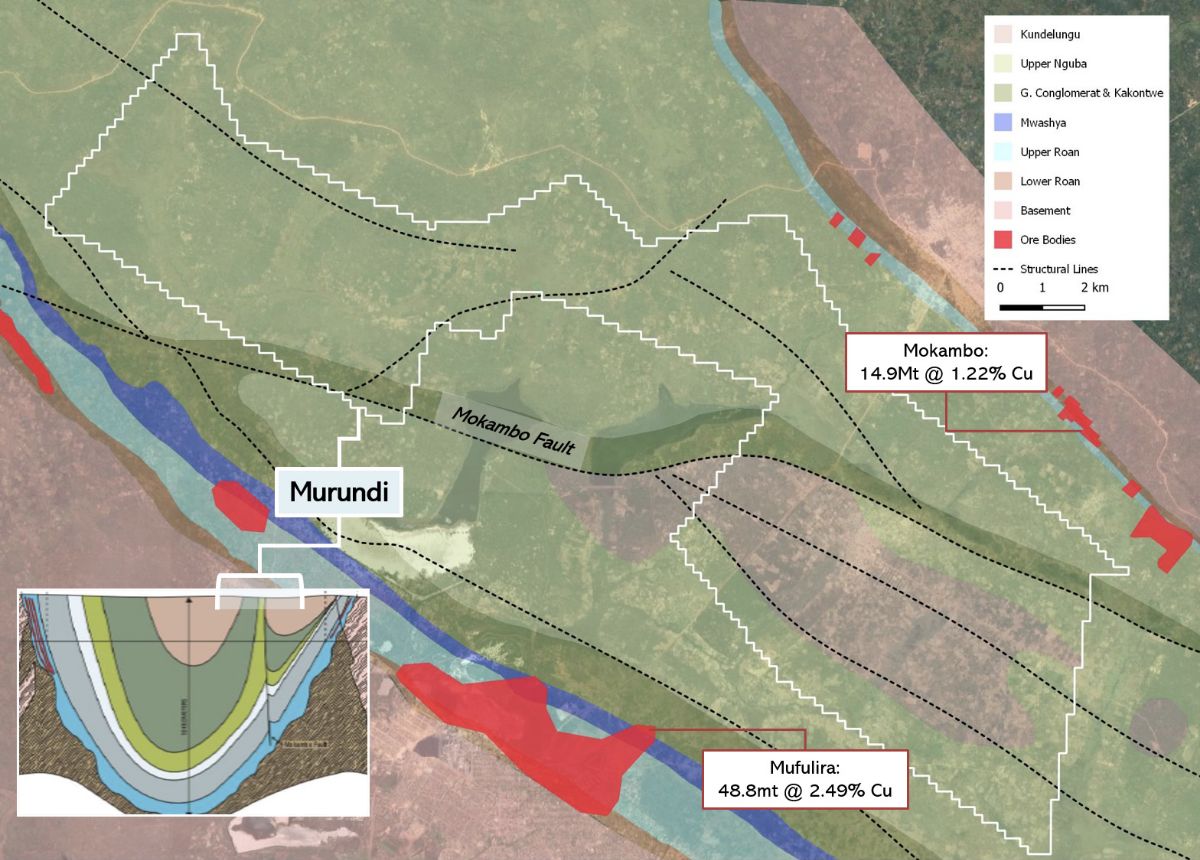 Regional geology across the Murundi licence.