Dongwe
Artisanal mines in analogous setting to Kitumba discovery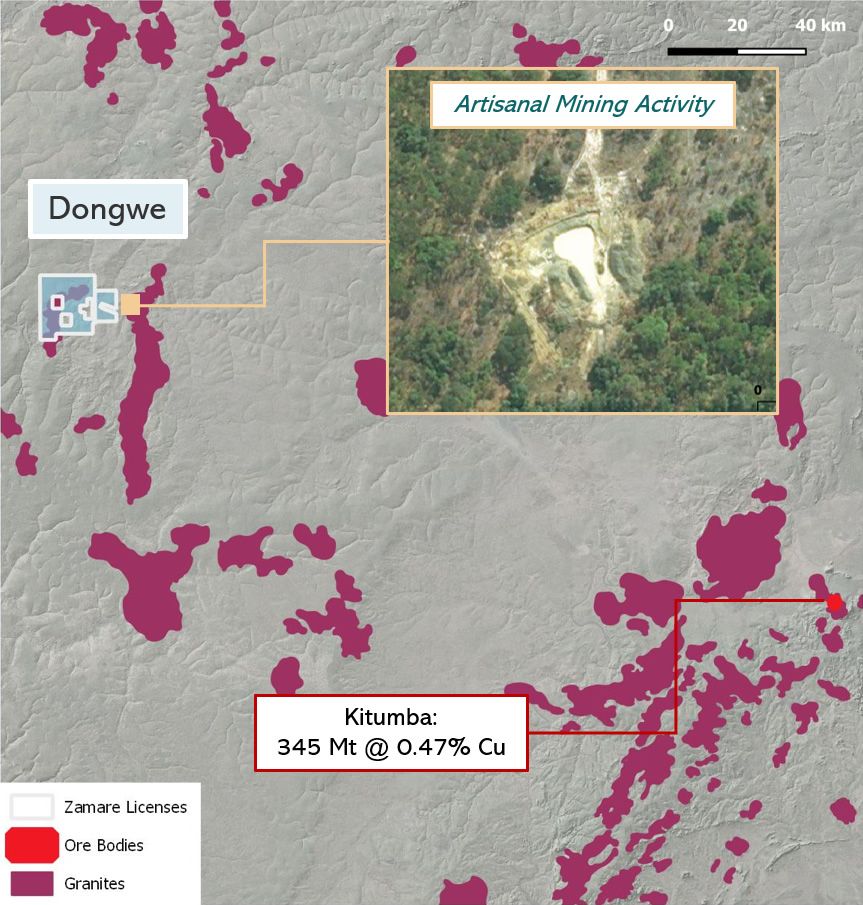 Dongwe licence (Click to zoom in)
Licence 25521-HQ-LEL (243 km2) - 100% owned by Zamare
Licence 22562-HQ-LEL (51 km2) - currently being acquired
Geologically this region is much less explored than the traditional Copperbelt, but is ripe for discoveries. Indeed Zamare's Dongwe licence is located around 45 km south of the old Kalengwa Copper Mine. The mine, which closed in 1982 after 12 years of operation, is believed to have been one of the highest-grade copper mines in Zambia. Kalengwa was reported to have commenced mining of a high-grade supergene core reported to have yielded an average grade of 27% Cu. This core comprised around 20% of the ore body. The ore was so high grade that it was trucked unprocessed to Kitwe for direct smelting. Total production of 1.9 Mt of 9.44% Cu and 50 g/t Ag was reported from the open pit resulting in circa 15,000 tonnes of copper production per annum for the 12 years of production.
Kalengwa, along with the other mineralisation being investigated in this region, is of a different geological style to the traditional Copperbelt. Mineralisation in the region is believed to be of the IOCG (iron-oxide-copper-gold) deposit type which includes huge mines like Olympic Dam and Ernest Henry in Australia, amongst many others worldwide. The confirmed occurrence of granites in the vicinity is encouraging as such intrusive igneous bodies act as source rocks for IOCG mineralisation.
The Kitumba project 230 km south-east of Dongwe is another example of IOCG copper mineralisation style. Similarities to Kalengwa include host rock age, regional scale faulting and the same granitic intrusions source rocks.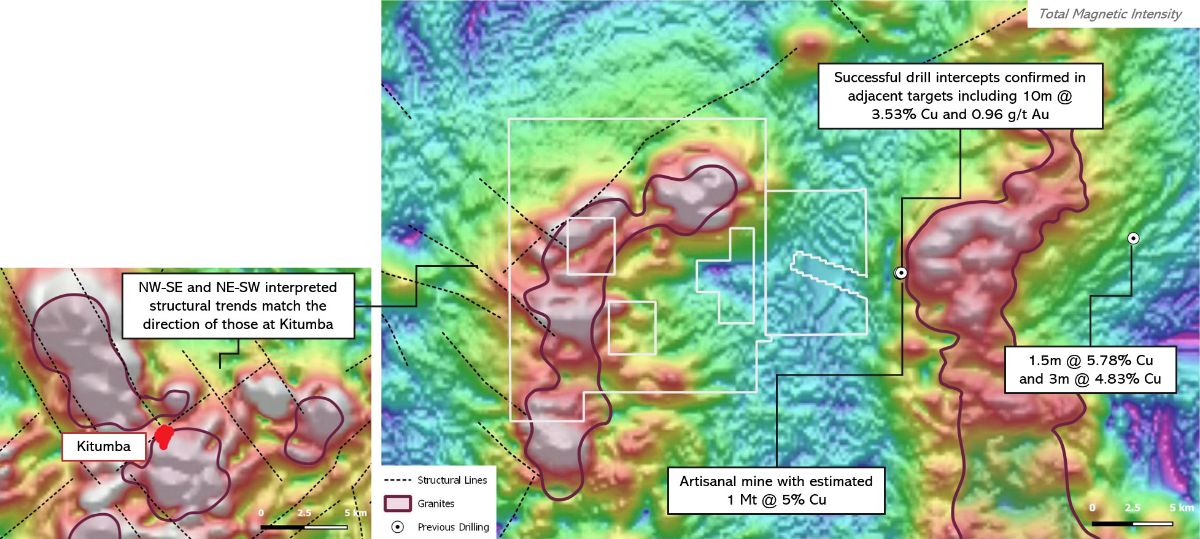 The Dongwe licence compared with the Kitumba discovery (Click to zoom in)
Magnetic data in the above image shows a strong magnetic high across Zamare's licence 25521. This is interpreted as a granite intrusion, which is encouraging for on the ground geological follow up. There is believed to be an active drill program on an adjacent licence (24726) to the east which is returning positive recent results. This licence has seen exploration by several companies in the past, with drill hole intersections including 10m at 3.53% Cu and 0.96 g/t Au. The area is also reported to have several artisanal copper mines including a recently active open pit mine estimated to have had 1 million tonnes of ore running 5% Cu.
The plan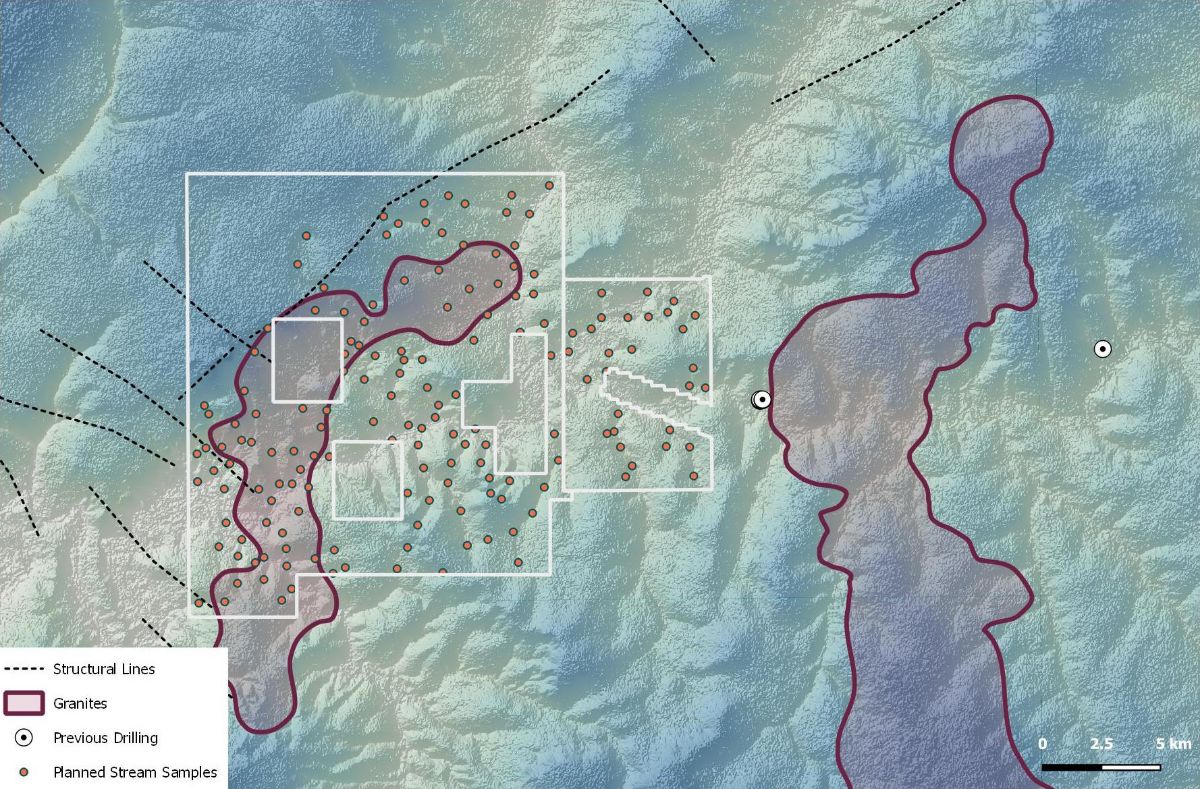 Dongwe - the plan (Click to zoom in)
Geochemical Program (Stage 1)
192 point stream sampling survey planned across target.
Good drainage system means stream sediment sampling should be an effective, and efficient, first phase of exploration.
Follow-up soil sampling, along an E-W orientated grid, in areas above river drainage.
Remote Sensing (Stage 2)
Initial geological interpretations to be assisted by ASTER satellite data analysis using spectral footprints of Kitumba and Mufumbwe.
Geophysics (Stage 3)
Airborne geophysics (Aeromag and Radiometrics) for detailed mapping of granites and structures.
Kitumba mineralization has a strong association with uranium.
In this section: