Ntambu
Kalahari sands cover the opportunity
Ntambu (24827-HQ-LEL, 205 km²) is located in the North-Western Province, a rapidly evolving exploration hotspot. Ntambu fits the Zamare strategy of underexplored acreage next to large, discovered reserves.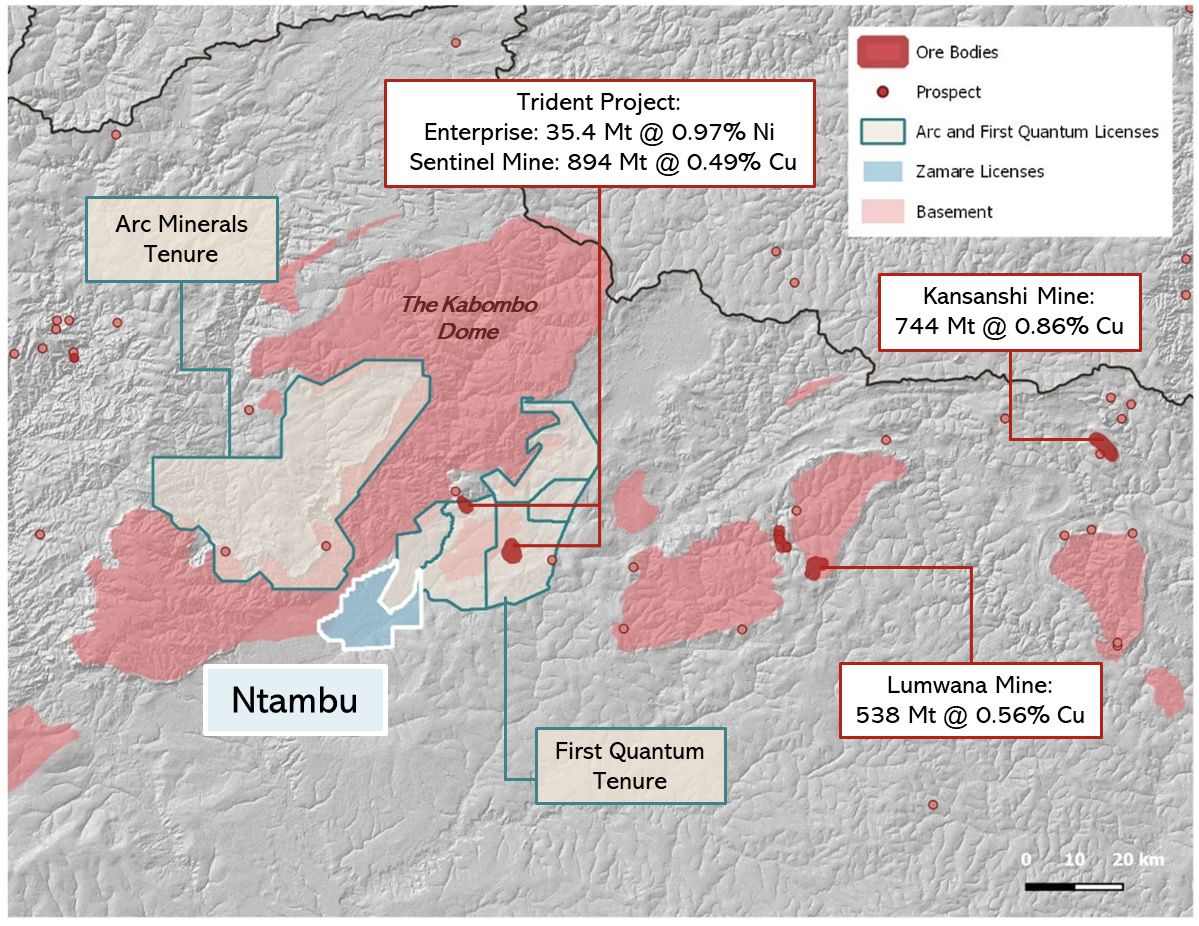 The Ntambu licence location (Click to zoom in)
Ntambu is located in The Domes Region of the Zambian Copperbelt where basement dome edges host significant, world-class deposits. Over the last 13 years, three new major copper mines have been discovered and constructed in this new western part of the Zambian Copperbelt.
Zamare's 100% owned Ntambu licence lies on the edge of the Kabombo dome, adjacent and in analogous geology to First Quantum Minerals' Sentinel and Enterprise mines and Arc Minerals' new discovery. Arc Minerals have reported some of the best intersections in the Zambian Copperbelt including: 18m grading 2.35% Cu; 7.6m grading 4.15% Cu; 45m grading 1.7% Cu; and 39m at 1.47% Cu.
In January 2021, Zamare Minerals signed a technical cooperation agreement with First Quantum Minerals Ltd over the Ntambu licence. Through the agreement First Quantum have provide Zamare with comprehensive soil geochemistry, airborne magnetics, radiometrics and EM as well as drilling data. First Quantum Minerals completed the work as part of their Trident exploration program but were required to relinquish the licence. This data was provided to Zamare at no cost and the Ntambu licence remains unencumbered and 100% owned by Zamare.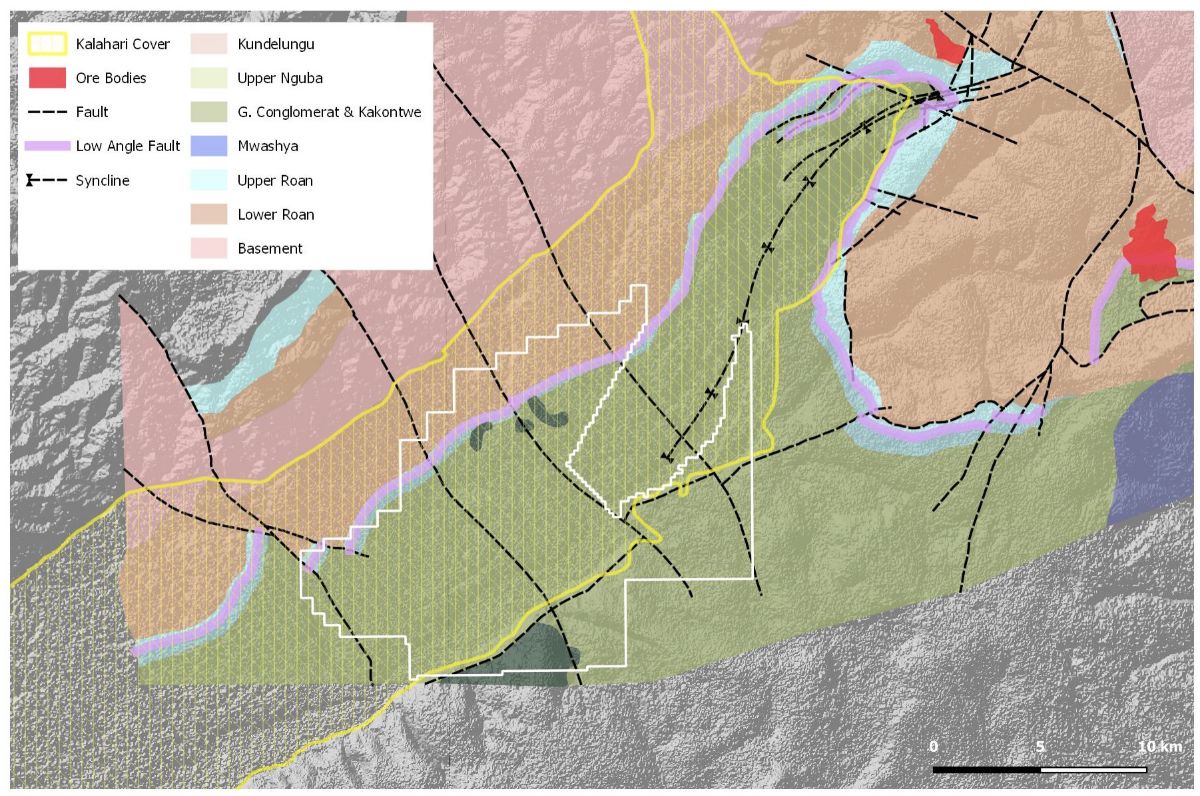 Geology of the Ntambu licence (Click to zoom in)
Ntambu has excellent geological similarities with First Quantum's Trident Project:
along the same prospective basement edge
faults and structures are continuous from Enterpise to Ntambu including a mineralisation-controlling low-angle fault
same Lower Roan Formation.
The highly prospective geology at Ntambu is hidden beneath Kalahari cover which has prevented exploration in the past but represent an opportunity for discoveries under cover. Currently, the company is working on re-interpreting data from First Quantum to develop drill targets. It is Zamare's understanding that First Quantum were focussed on the Trident project when interpreting the data and valuable information was not extracted over the Ntambu licence area.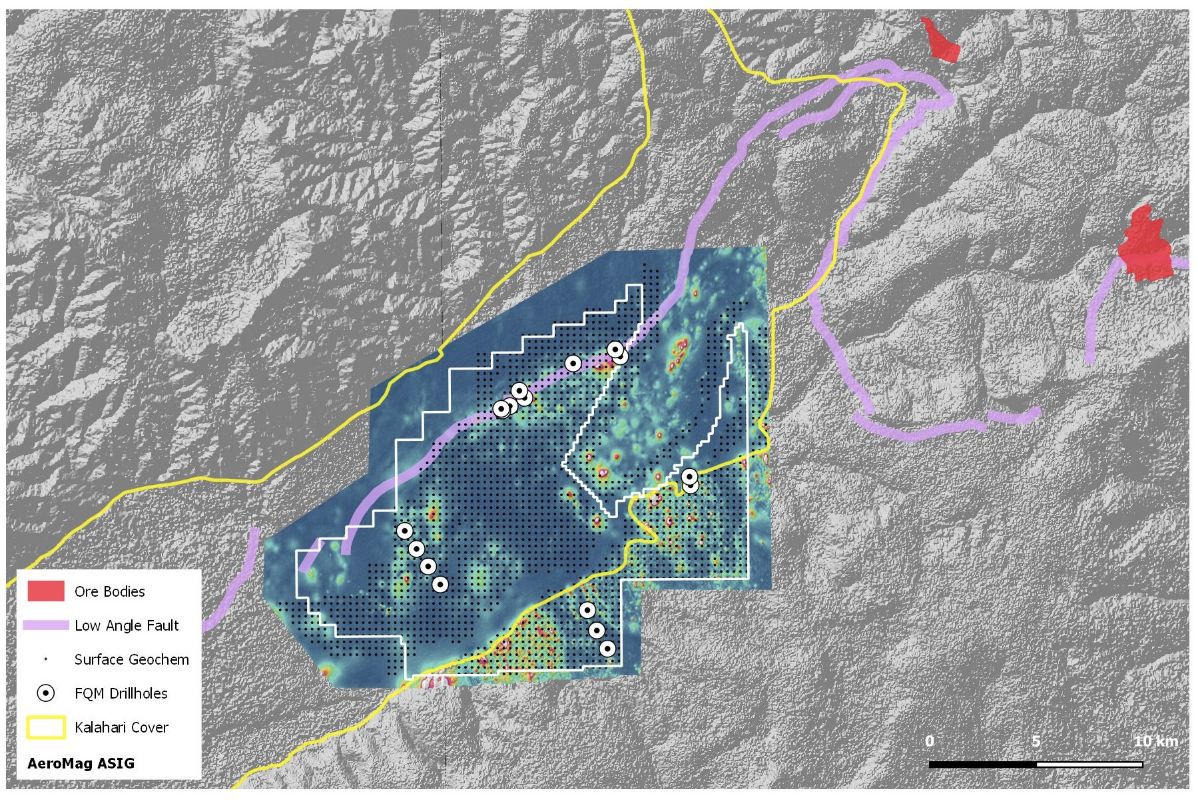 With more confidence in understanding the hidden geology of Ntambu, Zamare will look to plan an Aircore drilling programme to sample through the Kalahari cover and identify mineralisation.